Oak Structural Beams and Columns for Shopfitters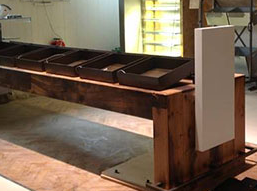 Oak structural beams and columns are essential aspects of traditional joinery and modern shopfitting. To meet the discerning standards of professional joiners, Oakbeamuk.com guarantee the largest stock of oak beams in the UK. Thoroughly air dried, our structural beams offer increased strength and longevity, increasing the lifespan and natural beauty of your fittings. Authentic oak beams provide distinct character, a variety of natural tones, and a sense of heritage that cannot be matched by imitation timbers.
Your quality guarantee is our status as exclusive suppliers of oak products, drawing from over 20 years of experience to cut, treat, and finish your beams and columns to specialist standards. This is backed by a 14-day money-back guarantee and nationwide delivery, ensuring you a prompt service.
In addition to structural beams and columns, we provide a variety of other oak products.

An oak staircase is a standout feature. Untreated Reclaimed Oak salvaged from barns, houses, and castles in England and France will give your commercial staircase a weathered, natural aesthetic, while helping your project to meet environmental requirements. For more modern oak staircases, or areas of high footfall, we recommend using our full preparation service, producing a cleaner, more protected finish.
Cladding services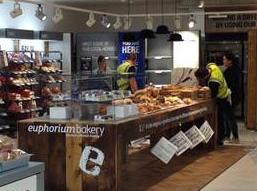 Our cladding services are specifically designed to help shopfitters conceal wirework, steel lintels, and other unsightly features from interior and exterior fits. To achieve this, we hand select and bespoke cut oak beams to create a distinctive 'U' or 'L' shaped casing. This unique design makes them ideal for concealing plumbing and other undesirable yet necessary elements of shop builds for a finish your customers will love.
Our experienced team is here to help. For superior beams, columns, and other oak products,
call us on +44 (0)1285 869222 or enquire online.