Oak Construction Beams: Builders and Contractors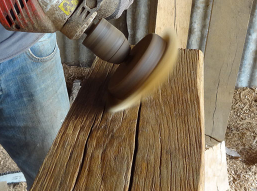 Construction beams must be solid and durable in order to withstand the weight of primary loads. In this respect, oak boasts a number of qualities that make it an excellent choice for construction beams. As a hardwood, its core is strong, enabling it to withstand the pressures of bending forces. Air-drying the oak increases this strength, making the wood even less likely to move or crack. Oak is also a beautiful wood with a quality reputation, so you can support your build at structurally vital points and still produce a breathtaking finish.
As exclusive suppliers of oak products, we guarantee you over 20 years of experience cutting, treating, and finishing your made-to-measure construction beams. A 14-day money-back policy reinforces this guarantee, while our promise of nationwide delivery ensures you an efficient service.
In addition to made-to-measure construction beams, we provide a variety of other oak products.
Commercial stairs
Oak's resistive qualities make it a fantastic material for commercial stairs. As a quality hardwood, oak is capable of resisting the high levels of staff and customer footfall the stairs will routinely experience. It is a striking wood, capable of lifting a shop interior with its class and rich, visual appeal.
Reclaimed Oak Beams in particular are filled with characterful knots and twists that make for stunning woodwork. Properly finished and treated, your oak commercial stairs can also last a lifetime.
Cladding for commercial buildings
Cladding for commercial buildings requires careful planning and an attention to detail. For natural finishes, the cladding should match the rest of the room's style and aesthetic. As a versatile wood, our Oak Beams to Clad RSJs can be manufactured in a variety of colours and tones. And because we hollow out the wood ourselves, the cladding is completely customisable, meaning we can clad wiring, plumbing, steel lintels and more to your exact specifications.
Our experienced team is here to help. For construction beams and other authentic oak products,
call us on +44 (0)1285 869222 or enquire online.